Toronto Ontario and Area B&Bs...Welcome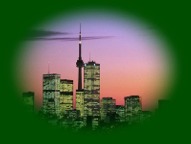 Toronto B&Bs, Bed and Breakfasts in Toronto, Mississauga Inns, B&B accommodations, Bed and Breakfast lodging, Guest Houses in Cabbagetown, Cottage and Vacation Rentals, Best Places to stay in Toronto, Ontario, Canada.
How can a city this big be this beautiful? Torontonians hear this question all the time, and smile. Saunter through one of the hundreds of parks that gives Toronto the claim of being one of the greenest cities in the world. Indulge in sampling gastronomic delights in your choice of over 5,000 restaurants before heading to a block buster theatrical production. While away a perfect afternoon at a ball game or stroll the boardwalk along the sandy shores of Lake Ontario. Shopping, you say, Toronto has it all from acclaimed designer shops to factory outlets to funky boutiques. Marvel at modern glass towers that overlook the grand old buildings of yesteryear. Over 200 years ago, the Huron people called these wondrous Lake Ontario shores, "Taronto", meaning "place of meeting", which still describes what this vibrant, cosmopolitan city is today. Come and get acquainted with Canada's biggest city, with this splendid 'Meeting Place'.