Welcome to Powell River on BC's famed Sunshine Coast. Welcome to SunCatcher Oceanside Bed and Breakfast. Come, discover the vast array of pleasures that oceanfront living can provide! Stroll the beach exploring the sandbars and tide pools, plop down on a comfy perch to watch the sunset.....then after dark bask in the warm country feel of a campfire in our beachside fire pit.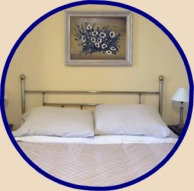 We offer 2 well appointed guest rooms both with private entrance, private bathroom, Cable TV, wireless internet and thoughtful amenities.
After a perfect night's sleep awaken to the aroma of fresh brewed coffee and savor a hearty breakfast with specialty gourmet entrees.
Good morning!
Before or after exploring all that the Powell River area has to offer be sure to leave yourself time to enjoy the panoramic view of Malaspina Strait from our patio, or enjoy the beauty and tranquility of our gardens or, of course, cozy into our guest lounge to read up on local lore.

Your gracious hosts, Yvonne and Len, look forward to sharing their delightful oceanfront accommodations and warm hospitality with you on your very next visit to the Powell River area.
---
SUNCATCHER OCEANSIDE BED AND BREAKFAST
8853 Stark Road, RR1, C13, Powell River BC V8A 4Z2
Phone: (604) 487-1087
Please email or call today to check availability.
Toll-Free: 1-877-487-1087
Email: suncatcherbb@shaw.ca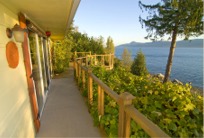 Lush gardens surround our Powell River Bed and Breakfast offering secluded spots to sit among the flowers and birds. Help-yourself to the bounty of our cherry, peach and pear trees.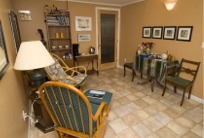 Guest Lounge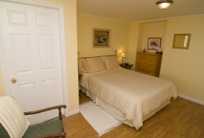 Sunrise Room
Peacefully savor an ocean view from this sunny guest room.

We do take small dogs.
Previous arrangements must be made.