South Okanagan Valley BC
Similkameen region British Columbia
ACCOMMODATIONS
SOUTH OKANAGAN
BED AND BREAKFASTS
Rock Creek
Osoyoos
Oliver
Keremeos
Princeton
South Okanagan -Similkameen BC Bed and Breakfasts, B&Bs......
Oliver BC B&Bs, Osoyoos BC Bed and Breakfasts, Keremeos B&Bs, Kaleden Inns, Princeton Bed and Breakfast Accommodations, Rock Creek B&B accommodation, Guest Houses in the South Okanagan, B&B lodging Oliver, Best Places to stay in the South Okanagan Similkameen area, British Columbia, Canada.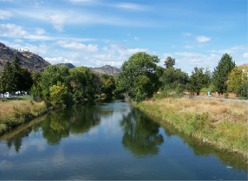 Long summer days that melt into star-filled nights.......sparkling blue lake waters......friendly road-side fruit stands......fresh picked peaches-n-cream corn on the cob......soft green mountains.....autumn days where even the air smells like apples....calm lake waters that beckon........spring blossoms that go on and on .....tidy green rows of grapes everywhere.....quaint estate wineries .....pumpkin patches......hidden fishing spots.....ice cold cherry cider..... delightful, secret swimming holes .....cantaloupe ice cream.....peaches as big as this......beautiful green golf courses.... ice wine...... perfect nights made for snuggling.....fuscia colored sunsets.....Come explore the South Okanagan-Similkameen. Discover the warm hospitality of the delightful communities of Osoyoos, Oliver, Keremeos, Princeton, Rock Creek in super-natural British Columbia, Canada.
1 of a Kind



Sculpture B&B
Oliver
Friendly, casual, comfy B&B home located in a quiet Oliver neighborhood. Offering one guest suite with a jetted soaker tub and shower and two bedrooms each with a queen sized bed. Delectable home style breakfast, relaxing lounge area with fridge, microwave, coffee maker, dishes, table and chairs, internet access, radio and movie collection.
Close to wineries, golf, hiking, shopping and restaurants.


Buc's



Bed and Brew
Osoyoos
Arrive as a Guest....
Leave as a Friend

This unique B&B offers you the privacy and convenience of a motel with the charm of a Bed and Breakfast and is designed for the get-up and-go guests. Breakfast is self serve, continental style. Air conditioned guest rooms with private entrance, ensuites with shower and in-room coffee pot. Enjoy our BBQ and patio area and swimming pool.