Montreal Quebec Canada



ACCOMMODATIONS
MONTREAL
BED AND BREAKFASTS
Montreal
Downtown Montreal
Plateau Mont-Royal
Airport
West Island
Quartier Latin
The Village
Mount Royal and area

Montreal Bed and Breakfasts B&Bs ...Welcome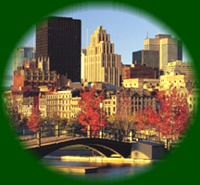 Bed and Breakfasts, Inns, B&B accommodations, Bed and Breakfast lodging, cottages, B&Bs in Quebec, Vacation rentals, Guest Houses, Best Places to stay, Canada. Bed and Breakfasts.

Montreal....one of the world's great cities. Captivating. Exhilarating. Oozing charm and charisma, grounded with a strong heritage, alive with cultural diversity and ready to enthrall you.... in French and English. That's Montreal! Let the rhythm of the city have it's way with you .....let the fragrance of thousands of blossoms lead you through the Botanical Gardens.....stroll the Old Port of Montreal ......hear the bells on the night air from Saint Joseph's Oratory .....happily cycle alongside the Lachine Canal ....sit front row centre at a theatre production ......do the IMAX ......spend a pleasure filled day in the middle of the majestic St. Lawrence River at Parc Jean-Drapeau .....watch the world go by from a side-walk cafe ......tuck into the quaintest B&B ever ....laugh the night away at a Comedy Club ......shop the most eclectic collection of shops in Canada .....savour dinner out every night ......understand Joie de vivre ......experience the thrill of the Lachine Rapids with a jet-boat under you ......come play, come rest, come discover, come to Montreal and make memories that will last a lifetime.

Les Bons Matins



Bed and Breakfast Inn
Located in magnificent, early 20th century residences and quietly tucked away close to the Bell Centre, Les Bons Matins offers delightful rooms, suites, apartments and townhouse - inspired accommodations for every budget without compromise. Every morning, you can wake up to a scrumptious breakfast fit for royalty. Served in our cozy, sun-drenched dining room. Your stay at our cozy inn will be the high point of your trip to Quebec. We promise!