Calgary Bed and Breakfasts

ACCOMMODATIONS
CALGARY
BED AND BREAKFASTS

Calgary B&Bs

Calgary-Area B&Bs

Airdrie
Okotoks
Cochrane
Springbank
Strathmore
Dewinton
High River
Priddis
Bragg Creek
Calgary Alberta Bed and Breakfasts ...Welcome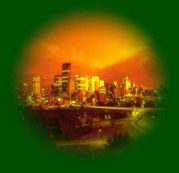 Calgary area Bed and Breakfasts, B&B accommodations. Calgary Alberta Bed and Breakfasts, Downtown Calgary B&Bs accommodations, Inns, B&Bs, lodging, Best places to stay in Calgary, Alberta, Canada.

Where the golden prairies meet the glorious foothills of the mighty Rocky Mountains....it's about here you'll find the cosmopolitan sprawl of Calgary. The big city with down home hospitality, true old- west flare and the best darn sense of yahoo to be found. More shopping, dining, cultural activities and outdoor pleasures than you can shake a 9 iron at. Oh yes, the golfing is good. To say nothing of the night life. The greenest of parks abound at every turn, with walking and cycling trails along the river, that will keep you smiling well past sunset.

Don't miss the world famous Calgary Zoo......step back into bygone days at Heritage Park.....dance in the streets at the best dang whoop-up this side of the Rockies - The Calgary Stampede. Treat your tastebuds to a sampling of ethnic cuisine from all corners of the globe and enjoy the sights and sounds of Eau Claire Market. Vacation pleasures, we've got. Come and see for yourself. Yip, yip, yip, yahooooo.